For the general exhibitor manual, please email to: [email protected]
The general exhibitor manual form need to be filled out and send back to m[email protected] by schedule listed on the manual.  Please use the email title:  GC23-Exhibitor name-exhibitor manual form
The service below is not listed on the general exhibitor manual, if you need the service, please click and direct to the order forms.
Material handling, in-booth forklift, logistic and customs clearance
visit www.stroncoonline.com. The show code for this event is: 517095216.
Download the Logistic and Material handling instruction
ELETRCI, POWER AND LIGHTING, MECHANICAL SERVICES, 
service including:
Electrical Services
Lighting Services
Mechanical Services
Request A Sign & Banner Hanging Quote
Deadline for discount price Sep.20th, 2023.    Online order link           Once you create an account, log in, and search "Glasstech", the service page will appear:
The "Booth Layout" is mandatory to fill out and submit together with the electric order form.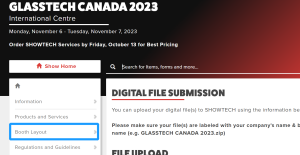 FOOD & BEVERAGE  (From The International Centre ) 
The International Centre understands the importance of each client and the success of their event. Ensuring a fresh, innovative, and memorable experience. Food & Beverage professionals to cater to your event.
Contact: Sandeep Kaur, Events Coordinator
Phone: 905.678.5585 Mobile: 647.517.1956
E-mail: [email protected]      Online order link
Audio Visual (TV/screen monitor); and Internet service:   
Supplier: ENCORE REPRESENTATIVE
download the application forms by below link and check the price,
Audio Visual Exhibitor Order Form
Internet Exhibitor Order Forms
fill out the form and send directly to:
ENCORE REPRESENTATIVE
Contact person: Craig Beattie,
Phone:416-428-5104
Email: [email protected]
Cleaning service
Supplier: H&S service Inc.
Contact person: Neil Moore
Email: [email protected]
Down load the order form Cleaning Order Form